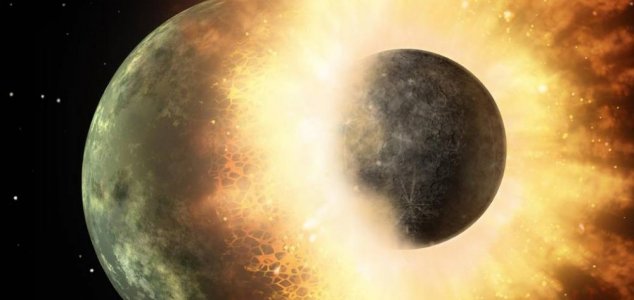 The early Earth was involved in a massive planetary collision.

Image Credit: NASA/JPL-Caltech
Scientists have determined that the Earth and moon are made up of material from two separate worlds.
Somewhere around 100 million years after the Earth was formed it had a run-in with another planet known as Theia, but while previous studies had suggested that the two worlds had only side-swiped one another, new research has revealed that they were most likely involved in a head-on collision.
The cataclysmic smash was so destructive that Theia was reduced to a cloud of debris which gradually merged together with the Earth to form both the moon and a single, larger planet.
The research was based on a new analysis of rock samples retrieved during the Apollo moon landings which showed an identical ratio of oxygen isotopes to materials collected on the Earth - something that shouldn't be possible if the Earth and Theia had only side-swiped one another.
"Theia was thoroughly mixed into both the Earth and the moon, and evenly dispersed between them," said UCLA geochemist Edward Young.
"This explains why we donít see a different signature of Theia in the moon versus the Earth."
Source: Red Orbit | Comments (27)
Tags: Moon, Earth, Theia