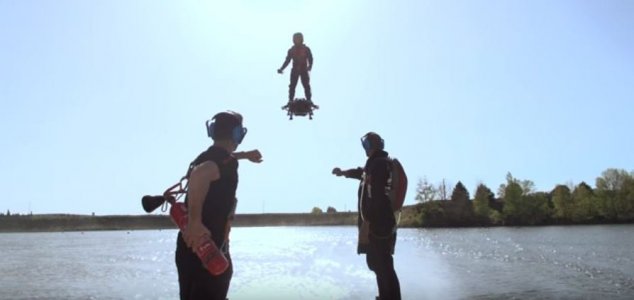 The Flyboard Air coming in to land at the edge of a lake.

Image Credit: YouTube / Flyboard by ZR
A new video has been released showing a demonstration of the remarkably impressive Flyboard Air device.
There have been numerous attempts to create a working hoverboard over the last few years with varying degrees of success, but this latest one, which was developed by French company Zapata Racing, is so unbelievably impressive that it is difficult to tell if it is even a real device.
More closely resembling the jet glider used by the Green Goblin in the Spider-Man comics than the hoverboard from
Back to the Future
, the Flyboard Air can reach speeds of up to 93mph.
In the video, which can be viewed below, a pilot takes the board for a spin above a lake while demonstrating its ability to stay stable at altitude and to land gently on a small target.
While some Internet users have questioned the authenticity of the footage, the company remains adamant that the Flyboard Air is the real deal and that the video is entirely genuine.
Source: Techspot.com | Comments (24)
Tags: Flyboard Air, Hoverboard