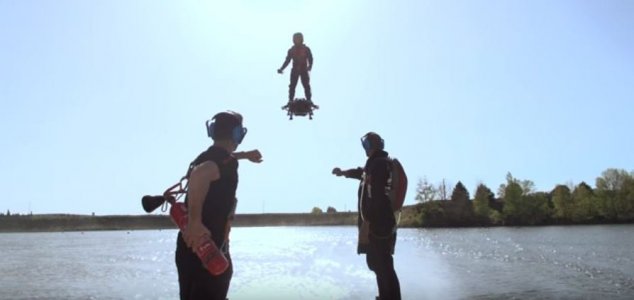 The technology is nothing if not impressive.

Image Credit: YouTube / Flyboard by ZR
The jet-powered Flyboard Air hoverboard may soon be seeing use in a range of military applications.
Originally developed by Zapata Industries, the impressive device looks more like the jet glider used by the Green Goblin in the Spider-Man comics than Marty McFly's
Back to the Future
hoverboard.
Demonstrated back in April, the Flyboard Air is capable of propelling its pilot high in to the sky at speeds of up to 93mph while maintaining a stable and controlled flight.
It isn't clear exactly what the firm's new owner, Implant Sciences, intends to do with this technology however the company, which is known for developing machines that can detect explosives, has already mentioned such applications as 'flying medical stretchers' and 'floating rescue stations'.
"You can call it a hoverboard, call it a Flyboard, call it independent transportation - you have a potential game-changing technology in a space where you can define the market," said Robert Liscouski, the president of Implant Sciences.
"It's got a wow factor that you can't ignore. The first reaction is 'Holy crap, is that real?' And then once you get past that you're like 'Wow, I can really see that applying to a lot of things.'"
Source: IB Times | Comments (7)
Similar stories based on this topic:
Tags: Hoverboard