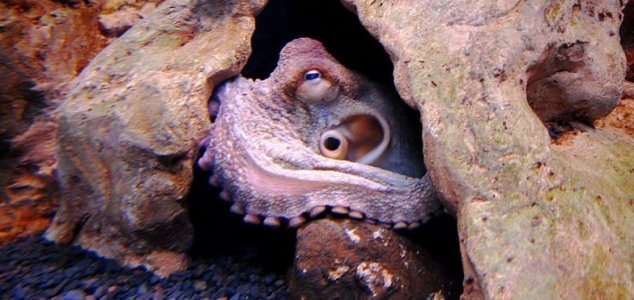 Octopuses are particularly adept at squeezing through tight spaces.

Image Credit: CC BY-SA 3.0 Eistreter
An octopus in New Zealand called Inky managed to escape his tank and make his way back to the ocean.
The eight-legged escape artist, who had been kept at the National Aquarium of New Zealand in Napier, was found to have completely disappeared when his keeper arrived at work one morning.
It was eventually determined that the daring cephalopod had squeezed through a small gap at the top of his tank, squirmed his way across the floor to an open drain pipe, then wriggled more than 164ft down the drainage system before being deposited in the ocean at Hawke's Bay.
Despite a thorough search of the pipes no trace of the octopus was ever found.
"He managed to make his way to one of the drain holes that go back to the ocean, and off he went," said aquarium manager Rob Yarrall. "Didn't even leave us a message."
Octopuses are certainly no stranger to making their way through small spaces.
"Octopuses are fantastic escape artists," said aquarist Alix Harvey. "They are programmed to hunt prey at night and have a natural inclination to move around at night."
"They have a complex brain, have excellent eyesight, and research suggests they have an ability to learn and form mental maps."
Source: New York Times | Comments (11)
Similar stories based on this topic:
Tags: Octopus