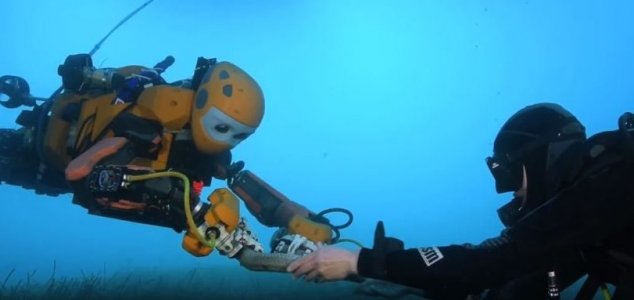 The robot is able to manipulate objects on the sea floor.

Image Credit: YouTube / Stanford University
Scientists have been using a diving robot to recover valuables from a famous 17th century shipwreck.
Known as OceanOne, the remarkable robot can be operated remotely using a sophisticated array of instruments and control mechanisms including cameras, haptic force feedback and two robotic arms that can enable an operator to move and manipulate objects on the sea floor with great precision.
The robot's impressive abilities were put to the test recently when it was used to retrieve valuable artifacts from the wreck of King Louis XIV's flagship which sank off the coast of France in 1664.
"OceanOne will be your avatar," said Oussama Khatib, a professor of computer science. "The intent here is to have a human diving virtually, to put the human out of harmís way."
"Having a machine that has human characteristics that can project the human diverís embodiment at depth is going to be amazing."
Originally designed to enable the exploration of deep sea coral reefs, the device offers an unprecedented level of control and feedback unheard of in other remote-operated robots.
"You can feel exactly what the robot is doing," said Professor Khatib. "Itís almost like you are there; with the sense of touch you create a new dimension of perception."
Source: Stanford News | Comments (7)
Similar stories based on this topic:
Tags: Shipwreck, Robot