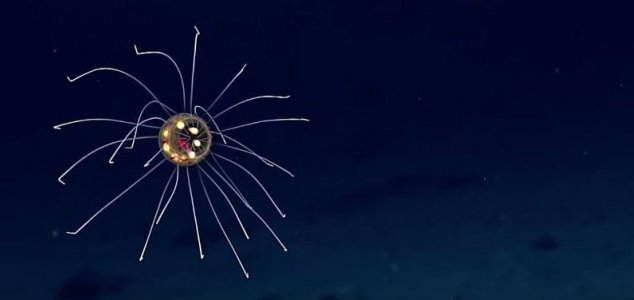 The jellyfish was caught on camera by a deep-sea ROV.

Image Credit: YouTube / oceanexplorergov
Scientists exploring the depths of the Mariana Trench have come across an otherworldly looking creature.
The eye-catching deep-sea jellyfish, which looks like something out of the James Cameron science fiction movie 'The Abyss', is both beautiful and mysterious in equal measure.
It was filmed 2.3 miles beneath the surface of the sea at the Enigma Seamount in the Mariana Trench using a special remote-operated vehicle called Deep Discoverer.
While little is known about this enigmatic denizen of the deep, researchers believe that it is likely to be an ambush predator that waits with its tentacles outstretched for an unwary victim to pass by.
Footage captured by the ROV of this impressive new species can be viewed below.
Source: Scientific American | Comments (11)
Tags: Mariana Trench, Jellyfish