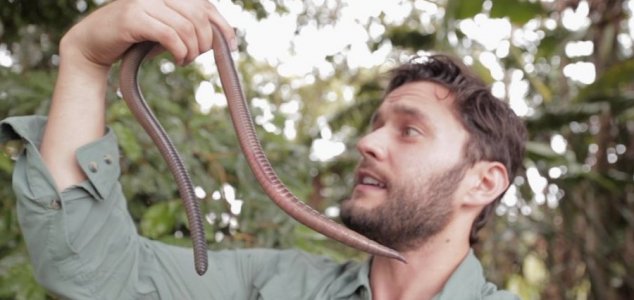 The enormous worm weighed around one pound.

Image Credit: YouTube / The Jungle Diaries
Entomologist and TV host Phil Torres encountered the 4ft invertebrate during a tropical rainstorm.
Finding an earthworm in your garden after it rains is not unusual, but for adventurer Phil Torres recently, a drive through the Amazon rainforest resulted in an encounter that he will never forget.
The enormous animal, which measured around 4ft in length, was found crossing the road.
Stopping to investigate it as part of his 'Jungle Diaries' YouTube series, Torres captured a series of size comparison photographs using his iPhone and was also recorded on film holding the worm up to demonstrate the size of the species compared to common earthworms at home.
Even more incredible is the fact that this particular specimen is considered to be relatively small as the species is known to reach lengths of up to 7ft - that's nearly twice the size of this one.
Source: Gizmodo | Comments (14)
Tags: Giant Earthworm, Amazon Rainforest