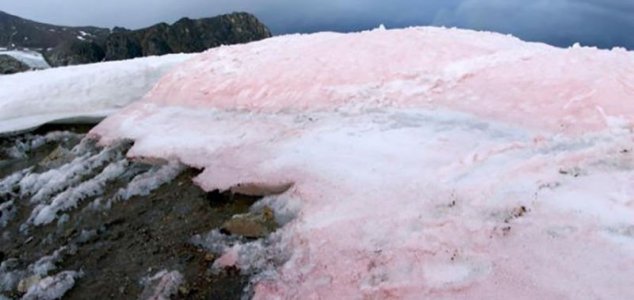 The snow is so pink that it looks like cotton candy.

Image Credit: Liane G. Benning / GFZ
The pristine white of the Arctic landscape seems to have been turning a rather unusual shade of pink.
First reported back in 1818 by British Admiral Sir John Ross, the tendency for the Arctic snow and ice to turn pink is a phenomenon that has been occurring increasingly often in recent years.
Now according to researchers from England and Germany, the answer to this mystery lies in a chemical reaction which occurs when sunlight hits the algae living in the snow.
This might seem harmless enough at a glance, but in the long term this unusual discoloration has the potential to accelerate global warming by reducing the reflective properties of the snow.
The team studied samples from 16 glaciers in Sweden, Greenland, Iceland and Norway before concluding that this pink color made the snow absorb 13% more heat than when it is white.
"Imagine wearing black instead of a white T-shirt in the sun. It feels much hotter," said Stefanie Lutz, one of the study's co-authors. "It is the same for the snow: More heat means more melting."
Source: Christian Science Monitor | Comments (7)
Tags: Pink, Snow, Arctic