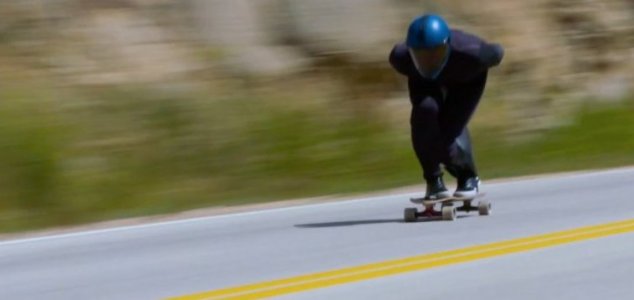 Wester managed to reach 89.41mph.

Image Credit: YouTube / Santa Cruz Skateboards
Skateboarder Kyle Wester has smashed the world speed record in an extremely impressive downhill run.
Protected by little more than a speedsuit and a crash helmet, the American skateboarder managed to reach a staggering 89.41mph on an undisclosed stretch of road in Colorado last month.
"Once I drop in, all my anxieties fade away," he said. "I become relaxed and focus on keeping my body as still as possible and keeping my tuck tight. You must have complete confidence in your equipment. Catastrophic failure is not an option."
The current world record of 80.74mph was set by Canadian Mischo Erban of Canada in 2012.
Wester however intends to take things even further and eventually hit triple digits.
"This is just the beginning," he said during an interview with GrindTV. "I'm hoping in my lifetime I'll be able to get to 100 mph (161 kph) unassisted just by kicking into a hill."
Source: Huffington Post | Comments (6)
Tags: Kyle Wester, Skateboard