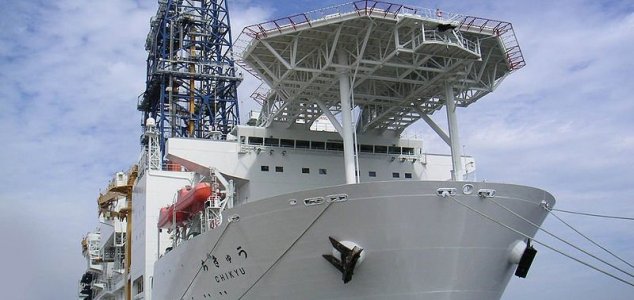 The Chikyu will be drilling 0.75 miles below the bottom of the sea.

Image Credit: CC BY-SA 3.0 Gleam
Scientists are set to embark on an ambitious mission to find out what is living beneath the ocean floor.
Beginning on September 12th, the expedition, which is set to last 60 days, will utilise the Japanese drilling vessel Chikyu to dig deep down beneath the Nankai Trough - an area of the ocean situated around 60 miles off the coast of Japan which descends 2.9 miles below the surface.
The team will aim to drill 0.75 miles in to the sea floor to determine how far down life forms are capable of surviving before the hot, challenging conditions become too much for them.
"We may discover some unknown life forms that can survive or adapt to the extremely challenging deep and hot sedimentary environment," said the expedition's co-chief scientist Fumio Inagaki.
"The nature and extent of the deep sub-seafloor biosphere is still largely unknown."
Retrieving samples from below the bottom of the sea however is no easy task.
"This expedition is as complex as a mission to outer space might be," said researcher Kai-Uwe Hinrichs who authored the scientific proposal on which the whole mission is based.
"It requires the technology to 'land' the coring bit on the right spot in over 4-kilometer-deep water, drill through ancient ocean sediments to collect samples far below the ocean floor, bring them back onboard intact, then transport them by helicopter to the super-clean geomicrobiology laboratory."
"This expedition is fraught with complexity, danger and vast opportunity for discovery."
Source: Live Science | Comments (7)
Tags: Ocean, Sea, Life