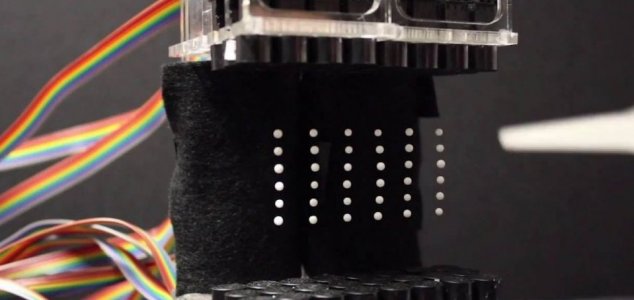 The spheres appear to be floating in the air.

Image Credit: YouTube / Interact Lab
The promising technology enables a three-dimensional image to be suspended in mid-air using sound waves.
Developed by researchers at the University of Sussex, the display is comprised of a grid of voxels which appear as multi-colored spheres that can be moved around and manipulated.
It works using a set of ultrasound speakers which "create high-pitched and high-intensity sound waves that are inaudible but forceful enough to hold the spheres in place."
While the technology is currently very limited, in the future it may be possible to create larger displays capable of showing highly detailed three-dimensional shapes and images.
"We also want to examine ways in which such a display could be used to deliver media on-demand," said researcher Sriram Subramanian. "A screen appears in front of the user to show the media and then the objects forming the display fall to the ground when the video finishes playing."
An in-depth demonstration of the technology can be viewed below.
Source: Engadget | Comments (9)
Tags: E-Ink, Hologram