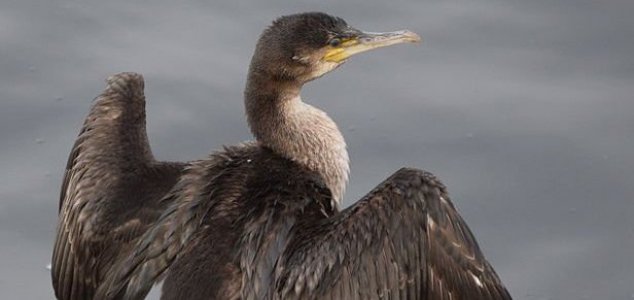 Tingmiatornis arctica was similar to today's cormorants.

Image Credit: CC BY-SA 4.0 Arnstein Ronning
A newly discovered species of seagull-like bird lived at a time when the Arctic was as warm as Florida.
The Arctic might be cold today, but 90 million years ago it was a very different story.
The latest evidence of this, a fossilized wing bone found in the Canadian Arctic, belonged to a species of diving bird that lived in the region alongside fish, turtles and crocodile-like reptiles.
Named
Tingmiatornis arctica
, the bird was like a cross between a seagull and a cormorant.
"This was a hyperwarm period, a real spike in temperatures where we think even during the winter there wasn't freezing water," said geophysicist John Tarduno. "Tingmiatornis arctica adds to this picture that we have of this incredibly warm Arctic 90 million years ago."
It remains unclear exactly why the world was so much warmer during the Cretaceous Period however scientists believe that it could have been due to large amounts of carbon dioxide being pumped in to the atmosphere during a particularly active period of volcanism.
Even at its coldest, the Arctic would have only ever dropped to around 57 degrees Fahrenheit.
Source: New York Times | Comments (4)
Tags: North Pole, Arctic