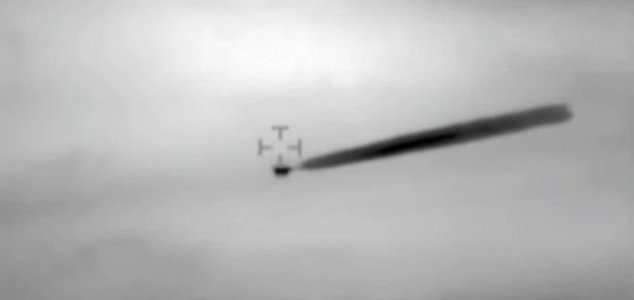 The UFO was seen ejecting two streams of an unknown substance.

Image Credit: CEFAA / YouTube
The newly declassified video was filmed by a military helicopter that encountered a UFO while on patrol.
The remarkable ten-minute recording was captured in broad daylight by the helicopter's Surveillance and Reconnaissance (SAR) camera during a routine coastal patrol back in November 2014.
The crew's first reaction was to contact local airfields and military installations to confirm whether or not the mysterious object had appeared on their radar screens. Despite being clearly visible to the helicopter, all of them reported that the UFO had not being picked up.
They then attempted to communicate with the craft using standard civilian frequencies however there was no response at all - whoever was controlling it seemed keen to maintain radio silence.
Twice during the encounter the object was observed ejecting an unknown substance in to the air which reportedly only showed up on the infrared camera.
The helicopter crew tried desperately to acquire as much data about the UFO as possible but inevitably, almost as suddenly as it had appeared, it had vanished in to the clouds and was gone.
CEFAA, the Chilean government's UFO investigations branch, went on to conduct an extensive investigation in to the encounter but despite their best efforts they ultimately came up empty.
The original footage, which has now been declassified, can be viewed below.
( The second half of the video contains the clearest shots. )
Source: Russia Today | Comments (39)
Tags: Chile, UFO