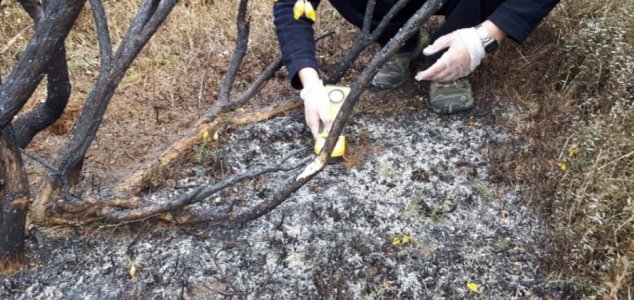 Researchers examined the charred impact sites.

Image Credit: Chile National Geology and Mining Service
Scientists have been struggling to explain a series of fires sparked by an object that fell over Chile recently.
The phenomenon, which lit up the sky and sparked several blazes last month, has since been the subject of a scientific investigation by the Chilean National Geology and Mining Service.
While it was initially speculated that a fragmented meteorite might have been responsible, a new report based on an analysis of the area around the impact site has cast serious doubt on this idea.
Researchers visited seven sites in and around the town of Dalcahue where small fires had reportedly been sparked by the object, however the team could find no evidence of a fallen meteorite.
In addition, local residents reported that they had neither seen nor heard anything unusual.
One possible explanation is that a satellite or other large piece of space debris may have come down over the region, however there has been no sign of any debris fragments either.
Researchers have taken soil samples for analysis and the results are expected in a few weeks.
Source: Gizmodo | Comments (10)
Similar stories based on this topic:
Tags: Fireball, Chile