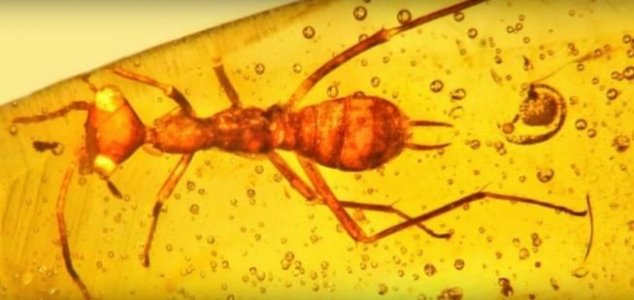 The new insect is certainly unique.

Image Credit: YouTube / Oregon State University
The find is so unusual that it has had to be assigned to a whole new branch of the insect family tree.
The alien-looking insect, which is believed to date back over 100 million years, was discovered perfectly preserved within a piece of amber that had been unearthed by miners in Myanmar.
"This insect has a number of features that just don't match those of any other insect species that I know," said Professor George Poinar from Oregon State University.
"With its long neck, big eyes and strange oblong head, I thought it resembled E.T. I even made a Halloween mask that resembled the head of this insect. But when I wore the mask when trick-or-treaters came by, it scared the little kids so much I took it off."
There are 31 existing orders under which all known insect species are catalogued, but now because this new insect -
Aethiocarenus burmanicus
- doesn't appear to fit under any of them, an entirely new order (
Aethiocarenodea
) has had to be established in order to categorize it.
A more detailed look at the discovery and analysis of the new species can be viewed below.
Source: Christian Science Monitor | Comments (13)
Tags: Insect, Amber