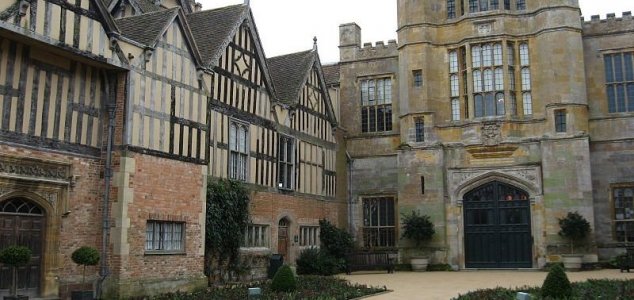 Coughton Court is a building steeped in history.

Image Credit: CC BY 2.0 jo-h
A secretive 'priest hole' in an English Tudor mansion has been tied to the infamous 'Gunpowder Plot'.
Coughton Court in England, like many stately homes in the 16th century, had a priest hole - a hidden space designed to conceal priests during the anti-Catholic persecutions of that era.
At the time, Catholic priests were considered traitors and faced execution, however many of them chose to travel around in disguise while performing banned Catholic ceremonies in secret.
Priest holes, which were often no bigger than a small cupboard, would give them the opportunity to hide from the authorities for days at a time while visiting wealthy families across the country.
Now researchers at the University of Nottingham have used 3D scanning techniques to reveal a priest hole hidden in the tower of Coughton Court - a building of particular historical significance.
The scans showed that this secretive space had been built using a 'double-blind' construction so that the real priest hole was hidden behind another secret space designed to fool the authorities.
"When they're searching, they think they've found the priest hole but it's empty, but actually the priest is hidden in the more concealed space beyond," said assistant professor Christopher King.
"And that's what happens at Coughton: there's one chamber under the floor in the turret of the tower, and then there is another trap door that goes through into a second space, which we assume is where the priest was actually hiding."
Coughton Court is well known for its connection to the infamous 'Gunpowder Plot' in which Guy Fawkes attempted to blow up the House of Lords and assassinate King James I in 1605.
On the night of the attempt, a group of Catholic conspirators met at the mansion to await news of the assassination. When it transpired that the plot had failed and that many of those involved had already been captured, the men fled in to the night.
Most of them were eventually captured themselves and executed for their treachery.
Source: Live Science | Comments (11)
Tags: Gunpowder Plot, Coughton Court