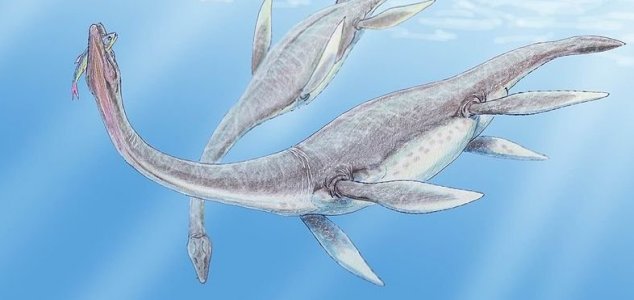 Dinocephalosaurus was one of many long-necked marine reptiles.

Image Credit: Dmitry Bogdanov
Scientists have discovered that not all prehistoric marine reptiles laid eggs like crocodiles do.
This surprising revelation comes courtesy of the well-preserved fossil of a species known as Dinocephalosaurus which populated the world's oceans over 245 million years ago.
The specimen, which was recovered from a fossil deposit in China, shows clear indications of being pregnant with another, much smaller Dinocephalosaurus. The fetus was around a tenth of the size of the mother, appeared to have identical anatomy and was curled up in a fetal position.
"The neck-forward position of the embryonic skeleton suggests that the included skeleton was not ingested prey, but was an embryo," the researchers wrote. "This is the first-ever evidence of live birth in an animal group previously thought to lay eggs exclusively."
Dinocephalosaurus itself was a long-necked ocean predator which measured up to 13ft long.
"It was a fish eater, snaking its long neck from side to side to snatch its prey," said study lead researcher Jun Liu. "It looks superficially like the legendary Nessie."
Source: Live Science | Comments (4)
Tags: Live Young, Reptile