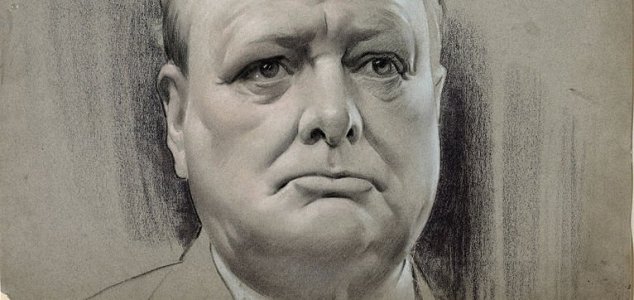 Churchill was well known for his interest in science.

Image Credit: G Harington
Britain's wartime Prime Minister wrote many articles long before ever stepping foot in Downing Street.
Churchill was certainly no stranger to science, as demonstrated by the fact that he funded many scientific endeavours during his time as Prime Minister and was the first ever to employ a science adviser. He also regularly met up with prominent scientists of the time such as Sir Bernard Lovell.
Now a new document has been discovered at the National Churchill Museum in Fulton, Missouri, which shows that Churchill had a keen interest in the possibilities of extraterrestrial life as well.
The 11-page draft, which was most likely intended for later publication, was written in 1939 - the same year that the Second World War broke out.
Intriguingly, Churchill's thinking on the subject was very similar to that of today's scientists. He recognized that water was essential for life to exist on other worlds and speculated that other planets are likely to be found in orbit around distant stars.
He even displayed an understanding of the 'Goldilocks Zone' - the narrow region around a star in which the temperature would be "just right" for liquid water to exist on a planet's surface.
On the likelihood of intelligent extraterrestrial life, he suggested that human life on Earth should not be unique given the vastness of the universe.
He also maintained that it may one day be possible to visit other nearby worlds.
"One day, possibly even in the not very distant future, it may be possible to travel to the Moon, or even to Venus and Mars," he wrote.
"I for one, am not so immensely impressed by the success we are making of our civilisation here that I am prepared to think we are the only spot in this immense universe which contains living, thinking creatures, or that we are the highest type of mental and physical development which has ever appeared in the vast compass of space and time."
Source: BBC News | Comments (17)
Tags: Winston Churchill