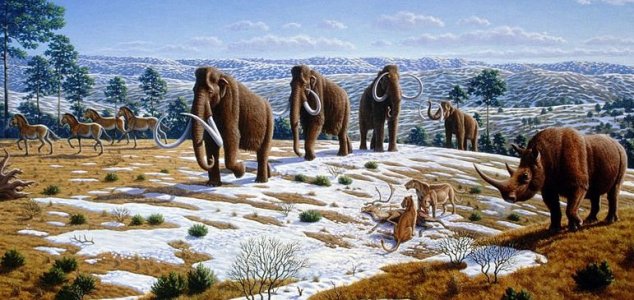 Mammoths could roam the Earth again soon.

Image Credit: CC BY 2.5 Public Library of Science
Scientists believe that an elephant-mammoth hybrid embryo could be created within as little as two years.
Speaking in advance of this year's American Association for the Advancement of Science (AAAS) meeting, Professor George Church, the scientist leading efforts to achieve the 'de-extinction' of the woolly mammoth, has claimed that success may be only a couple of years away.
His team at Harvard University has been working to create a "mammophant" - a cross between a modern elephant and a mammoth that will possess some of the physical traits of both species.
To achieve this, the researchers are going to splice in the genes associated with certain mammoth traits such as long shaggy hair, subcutaneous fat and blood adapted to cold weather climates.
"We're working on ways to evaluate the impact of all these edits and basically trying to establish embryogenesis in the lab," said Professor Church.
There are even plans to grow the hybrid inside an artificial womb rather than in a surrogate mother, mainly to avoid harming any elephants which are themselves becoming increasingly endangered.
Not everyone however is enthusiastic about what the team is attempting to achieve.
"The proposed 'de-extinction' of mammoths raises a massive ethical issue - the mammoth was not simply a set of genes, it was a social animal, as is the modern Asian elephant," said Matthew Cobb, professor of zoology at the University of Manchester.
"What will happen when the elephant-mammoth hybrid is born ?"
"How will it be greeted by elephants ?"
Source: The Guardian | Comments (18)
Similar stories based on this topic:
Tags: Mammoth, Cloning