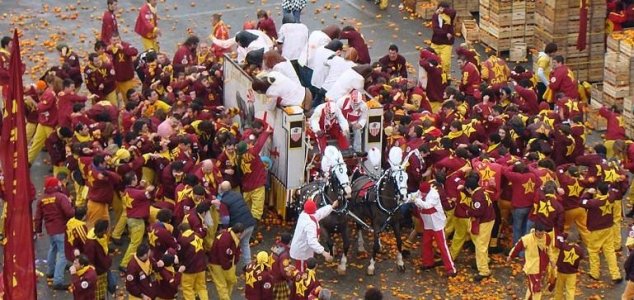 The festival can be chaotic.

Image Credit: CC BY-SA 2.5 Associazione Aranceri Mercenari
Thousands of people turned out last week to throw oranges at one another in the streets of Ivrea.
The exact origins of the festival remain unclear, however some believe that it was started to commemorate the city's defiance against a notorious tyrant of the 12th or 13th century.
According to the story, the tyrant had attempted to rape a young commoner on the eve of her wedding. His plan backfired in spectacular fashion however when the young woman, who was famously defiant in the face of her attacker, managed to overpower and kill him instead.
The rest of the local populace was then free to storm his palace and burn it to the ground.
Source: Sputnik International | Comments (3)
Tags: Oranges, Italy