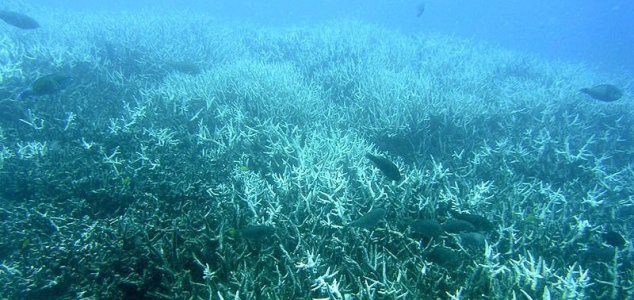 Coral reefs are being wiped out by rising temperatures.

Image Credit: CC BY-SA 3.0 Acropora
A plan to pump cold water on to coral reefs to stop bleaching has been met with significant criticism.
Bleaching occurs when consistently high temperatures cause coral reefs to expel their symbiotic algae - a process which turns them deathly white and from which many do not recover.
The problem has been getting continually worse in recent years thanks to global warming which has been destroying vast swathes of previously healthy coral reef due to rising ocean temperatures.
Now in a new bid to save at least some of the most important areas of coral reef, the Reef and Rainforest Research Center has joined the coral reef tourist industry to propose a controversial solution that would involve pumping cold water up from below to reduce the water temperature.
"With the amount of bleaching that we currently have, the reef is going to change, that will affect the number of species that actually survive," said managing director Sheriden Morris.
"While this is highly localised, it may have the benefit of maintaining some complex communities in the face of some of the pressures that the reef is facing."
Not everyone however is convinced that such a solution would be effective or advisable.
"We should be taking broad-area results," said former Great Barrier Reef Marine Park Authority director Jon Day who has described the plans as "ridiculous".
"But instead we do these sort-of band-aid, small localised scale things, which in terms of trying to maintain tourism sites might actually work, but we're going to actually lose the whole reef."
Source: The Guardian | Comments (11)
Similar stories based on this topic:
Tags: Coral Reef, Bleaching