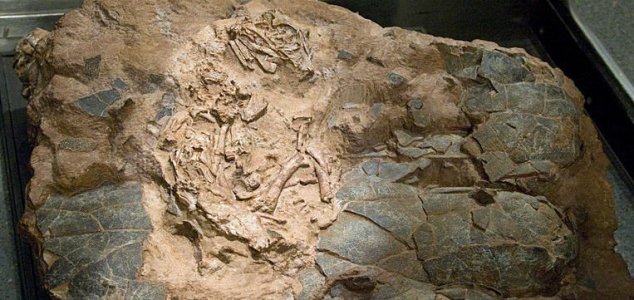 The fossil remains of 'Baby Louie'.

Image Credit: CC BY 3.0 Ealdgyth / Wikimedia
A fossil found in China has finally been formally identified after more than a quarter of a century.
The young dinosaur, which became known as 'Baby Louie' after a photograph appeared on the front cover of a magazine, has finally been identified as a species called
Beibeilong sinensis
.
It belongs to a group of large bird-like dinosaurs known as oviraptorosaurs which are now believed to have been common across North America and Asia around 100 million years ago.
"The geographical distribution and abundant occurrences of Macroelongatoolithus egg remains reveal that giant oviraptosaurs were relatively widespread and perhaps even common in the early part of the Late Cretaceous, even though their skeletal remains are scarce and have yet to be identified in many regions," the researchers wrote.
Although small, Baby Louie, if he had survived, would have likely grown from the size of a guinea pig to an adult weighing more than 1,000kg.
"It stretches the mind to imagine these wee little embryos growing into a one-ton feather-covered dinosaur that would have looked quite a bit like Big Bird," said Dr Steve Brusatte.
"And they were weird - with feathers and beaks, but no teeth."
Source: BBC News | Comments (2)
Similar stories based on this topic:
Tags: China, Dinosaur