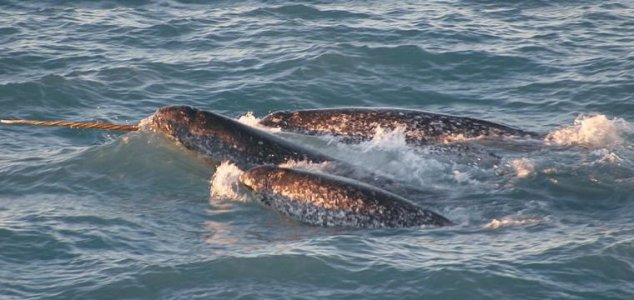 Narwhals are elusive and notoriously difficult to study.

Image Credit: NOAA
Remarkable new footage has finally helped scientists to explain the purpose of the narwhal's 9ft 'horn'.
Native to the Arctic waters around Greenland, Canada, and Russia, the narwhal is a species of toothed whale that has been likened to the mythical unicorn due to its unique horn-like tusk.
Exactly what this tusk is used for however has long remained something of a mystery, but now new video footage recorded by two drones in the waters off the coast of north-east Canada has, for the first time, revealed that this mysterious protrusion is actually used to ram in to and stun fish.
Measuring up to 9ft in length, the tusk is essentially a canine tooth containing thousands of nerve endings which enable the animals to sense things moving in the water around them.
The new footage, which can be viewed below, was particularly difficult to capture as the species is notoriously shy which has also made studying the animals' behavior something of a challenge.
Source: Independent | Comments (9)
Tags: Narwhals