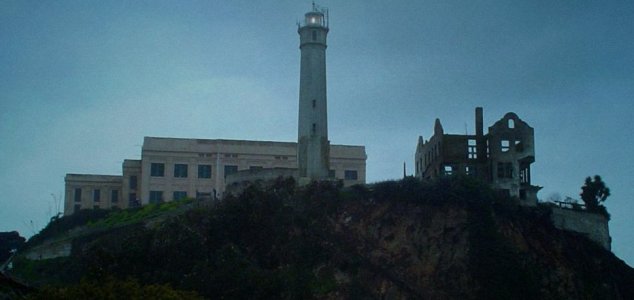 The prison was said to be impossible to escape from.

Image Credit: CC BY-SA 3.0 Centpacrr
Today marks the 55th anniversary of the escape of three men from the 'inescapable' Alcatraz prison.
Located in San Francisco Bay and surrounded by treacherous tidal currents, the prison's impenetrable walls and closely guarded cells made it practically impossible to escape from.
This didn't stop bank robbers Clarence Anglin, John Anglin and Frank Morris from giving it a go, however. On June 11th 1962, the men pulled off one of the most audacious escapes in history.
To escape their cells, the men spent six months painstakingly digging a tunnel out of the concrete using sharpened spoons. To keep the guards off their backs on the night of their escape they fashioned dummy heads from soap, paper and hair to place in their beds.
Once they managed to reach the water's edge, the men put together an inflatable raft made from raincoats and set off in to the fast-flowing water in an effort to reach safety. All three of them however disappeared that night and their fate has remained a mystery ever since.
While there have been recent reports and rumors suggesting that some of the men may have managed to reach safety, there has never been any concrete explanation of what happened.
Did the waters of the bay drag them to their deaths or did they manage to reach the shoreline ? Even if they did somehow survive, how did they live out their lives afterwards ?
After more than five decades, its a mystery that may never truly be solved.
Source: Nola.com | Comments (10)
Tags: Alcatraz