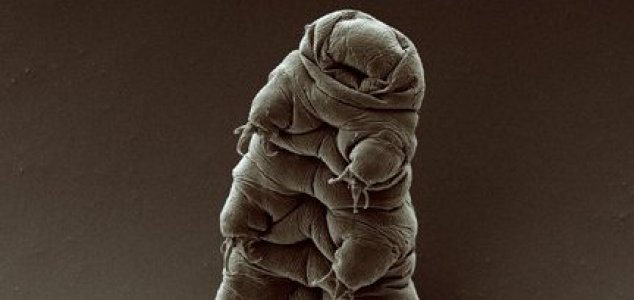 These are some extremely resilient creatures.

Image Credit: CC BY-SA 2.0 Goldstein lab
Scientists have identified a microscopic species capable of surviving almost any cataclysmic event.
It is often said that if a major apocalyptic disaster was to befall the Earth, the only thing left would be cockroaches. In reality however, there is another, far more resilient creature on our planet that would still be around long after the cockroaches had disappeared.
The tardigrade (or water bear) is one of the toughest life forms in existence. These microscopic invertebrates have been around for over 520 million years and have lived through countless mass extinction events including the one that wiped out the dinosaurs.
In a recent study, an international team of scientists decided to see just how resilient these remarkable creatures actually are by exposing them to conditions similar to those that they would experience during three cataclysmic events that could wipe out all life on Earth.
As it turned out however, the water bears are in fact so resilient that the Earth itself would need to succumb to almost total annihilation before the species could ever be truly wiped out.
An asteroid, for instance, would need to have a mass of 1.7 quintillion kilograms - that's so large that only 19 space rocks in the entire solar system are big enough to do the job. The chances of one of these striking the Earth are so slim that it is more likely the Sun would die before this would happen.
In the case of a deadly gamma-ray burst - the tardigrades can survive so much radiation exposure that the oceans would literally boil away due to the radiation's energy before they would die off.
A supernova is unlikely to do the job either because the nearest star capable of exploding is too far away to cause the oceans to boil away, meaning that it would again fail to destroy them.
Ultimately it seems, the only thing likely to ever wipe them out entirely is the death of the Sun itself.
Source: Washington Post | Comments (14)
Tags: Water Bear, Tardigrade