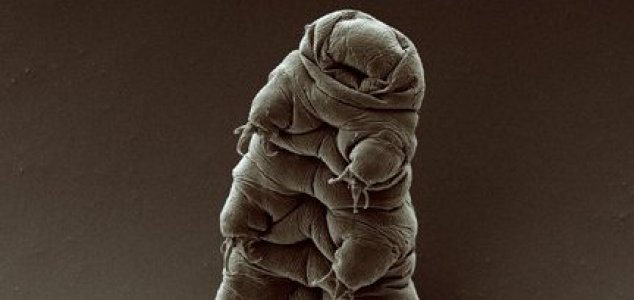 Tardigrades are particularly resilient creatures.

Image Credit: CC BY-SA 2.0 Goldstein lab
A strange new species of tardigrade, or 'water bear', has been discovered in a Japanese car park.
It is often said that if a major apocalyptic disaster was to befall the Earth, the only thing left would be cockroaches. In reality however, there is another, far more resilient creature on our planet that would still be around long after the cockroaches had disappeared.
The tardigrade (or water bear) is one of the toughest life forms in existence. These microscopic invertebrates have been around for over 520 million years and have lived through countless mass extinction events including the one that wiped out the dinosaurs.
Now Kazuharu Arakawa, a molecular biologist at Japan's Keio University, has discovered a peculiar new species of these resilient microscopic creatures that has been dubbed
Macrobiotus shonaicus
.
What makes this one particularly unusual is that it was discovered, not out in the wilds, but in a clump of moss retrieved from a city car park. It is also one of the only tardigrade species known to survive and reproduce in a laboratory environment.
Its eggs, which feature chalice-shaped protrusions topped with noodle-like filaments, are also unusual.
"Most of [the] tardigrade species were described from mosses and lichens - thus any cushion of moss seems to be interesting for people working on tardigrades," said Arakawa.
"It was quite surprising to find a new species around my apartment!"
Source: Live Science | Comments (4)
Tags: Tardigrade