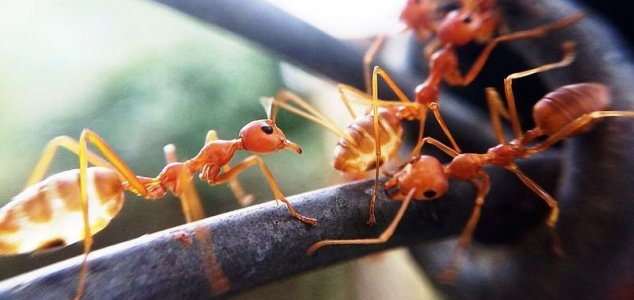 Ants are experts at cooperation and communication.

Image Credit: CC BY-SA 4.0 Arundaga2
A new study has revealed the amazing way in which fire ants cling together to form living towers.
In some parts of the world, especially in regions where flooding is commonplace, some ant species have developed the remarkable ability to form living structures such as rafts to avoid drowning.
When the water recedes, the ants will often cling to exposed plants and form a tower out of their own bodies to act as a shelter until they have a chance to construct a conventional underground nest.
During a recent study, researchers at the Georgia Institute of Technology had set up a camera to capture footage of fire ants building such a tower but forgot to turn off the recording for over an hour after leaving the room.
Initially believing their additional footage to be worthless, they soon realized that the tower in the video was actually sinking and that the ants were circulating the structure in a very unusual way.
It turned out that the ants at the bottom were moving outwards due to the weight of the ants above while the ants on the outside of the tower were continuously rebuilding it upwards.
"The rest of the tower is gradually sinking, while the ants at the top keep building it higher and higher," said Georgia Tech's Craig Tovey. "It's kind of hilarious."
Source: New Scientist | Comments (4)
Tags: Fire Ants