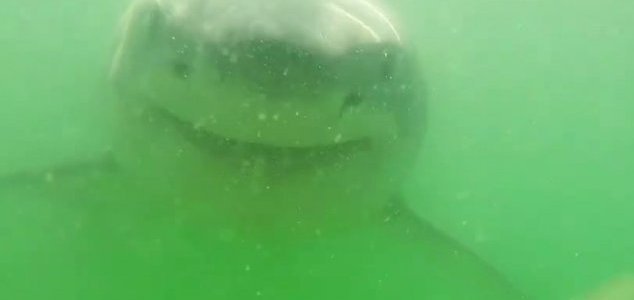 The real-life Jaws.

Image Credit: YouTube / Massachusetts Division of Marine Fisheries
A new science video has revealed what the view is like inside the mouth of a gargantuan great white.
Greg Skomal from the Massachusetts Marine and Fisheries Division had been tagging sharks at the Atlantic White Shark Conservancy when one of them offered up a truly unique opportunity.
The marine scientist had placed a pole with a GoPro camera in to the ocean in the hope of capturing close-up footage when a female great white swam up and placed the instrument in to its mouth.
Incredibly, the camera wasn't damaged and the shark promptly turned and swam away.
"I had the camera on a pole in the water and the shark was swimming and I'm thinking, 'I'll get a great view of the face of the shark and that will help us identify it'," said Skomal.
"It kept coming and then opened its mouth and bit it."
The bite was believed to be 'exploratory' in nature as the camera would have almost certainly been destroyed had the shark been attempting to feast upon it.
According to Skomal, the animal had likely been attempting to work out what the instrument was.
Source: ABC.net.au | Comments (3)
Tags: Shark