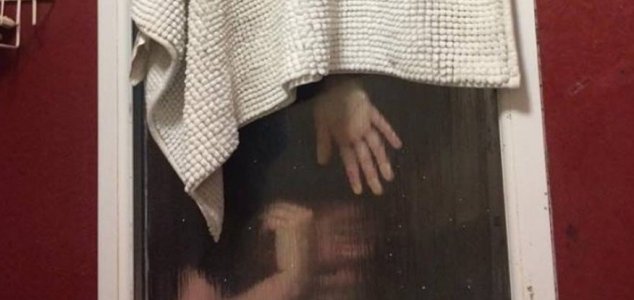 As far as first dates go, it's difficult for things to go worse than this.

Image Credit: Liam Smith
The unfortunate woman had crawled head-first between the panes after throwing her own excrement inside.
In what can only be described as one of the worst first dates in history, Bristol student Liam Smith had met up with his potential future wife after they had contacted one other on the dating app Tinder.
What followed was a series of unfortunate mishaps strangely reminiscent of a certain scene from the movie
Dumb and Dumber
.
Smith's date, who has chosen to remain anonymous, had been using the facilities at his flat when she discovered to her horror that the toilet was refusing to flush.
In a panic, she did the only thing she could think of - grabbing the excrement from the toilet bowl and hurling it out of the window. Sadly, however, it turned out that the window actually consisted of two panes of glass with a small gap between them that couldn't be accessed from either side.
Her 'package' had ended up wedged in the middle and there was no way to get it out.
After telling Smith what had happened, she decided to try squeezing herself head-first through the tiny gap at the top of the window in an effort to reach down the middle and retrieve the item.
Within minutes she had become hopelessly stuck and the fire brigade had to come and rescue her.
Source: BBC News | Comments (19)
Tags: Date, Tinder