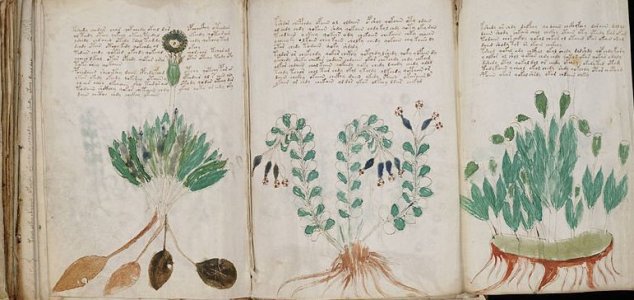 Is this a medieval women's health manual ?

Image Credit: PD
A history researcher believes that he may have finally solved the mystery of the medieval manuscript.
The enigmatic codex, which was first discovered in an Italian monastery by book dealer Wilfrid Voynich back in 1912, contains 240 pages of strange, indecipherable characters and images.
Written on fine calfskin parchment, the book has been dated back to the 15th century however all efforts to derive meaning from its contents have so far resulted in failure and frustration.
Now though, history researcher Nicholas Gibbs believes that he may have found the answer.
Far from being some secretive codex, he argues, the Voynich Manuscript is actually little more than a women's health manual containing text copied from various other medieval books and guides.
By studying digitized images of the manuscript's pages, he was able to spot a common form of medieval Latin abbreviation used primarily in medical treatises about herbs.
"From the herbarium incorporated into the Voynich manuscript, a standard pattern of abbreviations and ligatures emerged from each plant entry," he wrote. "The abbreviations correspond to the standard pattern of words used in the Herbarium Apuleius Platonicus."
"So this wasn't a code at all; it was just shorthand. The text would have been very familiar to anyone at the time who was interested in medicine."
Source: The Atlantic | Comments (5)
Tags: Voynich Manuscript