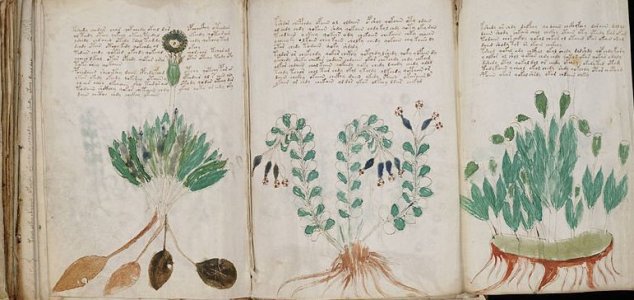 A few sample pages from the manuscript.

Image Credit: PD
An analysis of plant illustrations within the text has turned up links to an extinct Mexican language.
Discovered by book dealer Wilfrid Voynich in 1912 and carbon-dated to some time in the early 15th century, the nature of the enigmatic Voynich manuscript has proven elusive for years. Many people have tried to decipher the strange writing within its pages but to date none have succeeded.
Now botanist Arthur Tucker believes he may have discovered a connection between some of the plant illustrations in the manuscript and illustrations of plants found in 16th century records from Mexico. The similarities have brought up the possibility than the manuscript could in fact be written in Nahuatl, an extinct form of the Mexican language.
Gordon Rugg of Keele University however remains unconvinced. He, like many researchers, believes that the writing and illustrations in the manuscript are forgeries and that any correlation with real plants could be put down to simple coincidence.
"It's pretty good odds that you'll find plants in the world that happen to look like the Voynich manuscript just by chance," he said. "If I sat down with a random plant generator software and got it to generate 50 completely fictitious plants, I'm pretty sure I could find 20 real plants that happen to look like 20 of the made up plants."
Source: New Scientist | Comments (84)
Tags: Voynich Manuscript