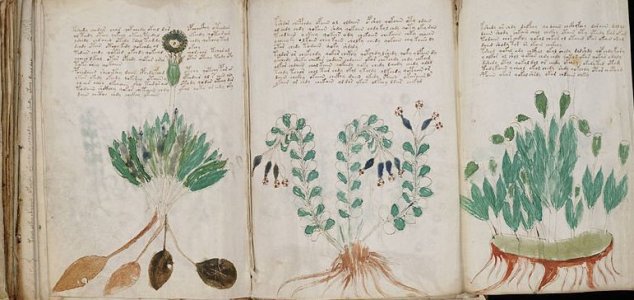 Who wrote the Voynich manuscript and does it really mean anything at all ?

Image Credit: PD
Cryptographers have been attempting to decipher the text's mysterious symbols and diagrams for decades.
The enigmatic codex, which was first discovered in an Italian monastery by book dealer Wilfrid Voynich back in 1912, contains 240 pages of strange, indecipherable characters and images.
Written on fine calfskin parchment, the book has been dated back to the 15th century however all efforts to derive meaning from its contents have so far resulted in failure and frustration.
A solution to this mystery has remained so elusive in fact that some researchers believe that the manuscript was actually created as a hoax designed to fool 15th century book collectors.
According to Gordon Rugg of Keele University in the UK, the mysterious text written within the book's pages could have easily been produced using simple cryptographic techniques.
In a new paper, Rugg argues that, given how extensively the text has been studied over the years, in order for it to be genuine it would need to be either "anachronistically sophisticated" or "based on some radically different underlying approach from any known code."
By drawing a simple grid and creating a card with holes cut out of it, he was able to demonstrate a very easy way that a 15th century hoaxer could have created the manuscript's strange characters.
"We have known for years that the syllables are not random," he said. "What I'm saying is there are ways of producing gibberish which are not random in a statistical sense."
"It's a bit like rolling loaded dice. If you roll dice that are subtly loaded, they would come up with a six more often than you would expect, but not every time."
Source: New Scientist | Comments (29)
Tags: Voynich Manuscript