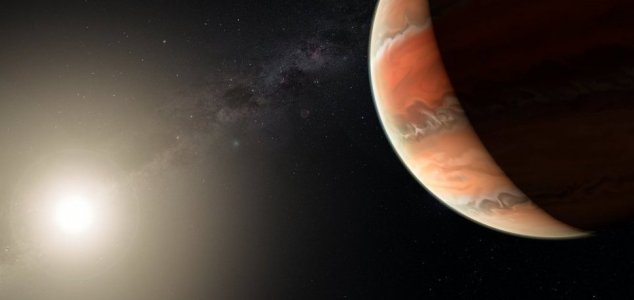 The planet is very close to its parent star.

Image Credit: ESO/M. Kornmesser
For the first time, astronomers have picked up signs of titanium oxide on a distant extrasolar world.
The planet in question, WASP-19b, is so close to its parent star that it takes a mere 19 hours to complete a single orbit and its atmosphere is thought to see temperatures of over 2,000 degrees.
To learn more about its atmospheric composition, a team of astronomers led by Elyar Sedaghati analyzed the light from the planet as it passed in front of its parent star.
They discovered that it contained, among other things, titanium oxide - something that is rarely seen on Earth and that is most commonly found in the atmospheres of cool stars.
"Detecting such molecules is, however, no simple feat," said Sedaghati. "Not only do we need data of exceptional quality, but we also need to perform a sophisticated analysis."
"We used an algorithm that explores many millions of spectra spanning a wide range of chemical compositions, temperatures, and cloud or haze properties in order to draw our conclusions."
The discovery will help scientists build more accurate models of exoplanet atmospheres.
"The presence of titanium oxide in the atmosphere of WASP-19b can have substantial effects on the atmospheric temperature structure and circulation," said astronomer Ryan MacDonald.
"To be able to examine exoplanets at this level of detail is promising and very exciting."
Source: Phys.org | Comments (2)
Tags: Titanium Oxide, Exoplanet