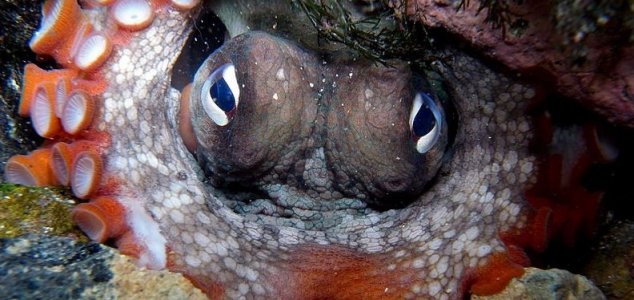 These particular octopi seem to enjoy each other's company.

Image Credit: CC BY-SA 4.0 Sylke Rohrlach
Members of the gloomy octopus species have created their own underwater settlement dubbed 'Octlantis'.
Situated in Jervis Bay on the coastline of eastern Australia, the remarkable Octopus 'city' consists of special dens constructed from sand and shells that can house up to 15 of the cephalopods.
The find is particularly unusual, not only due to the level of co-operation taking place but because the gloomy octopus was typically considered to be an isolated and solitary species.
To observe their behavior, an international team of researchers set up an underwater camera which recorded the animals meeting up, communicating and even chasing away rivals.
"These behaviors are the product of natural selection, and may be remarkably similar to vertebrate complex social behavior," said lead researcher David Scheel, from Alaska Pacific University.
"This suggests that when the right conditions occur, evolution may produce very similar outcomes in diverse groups of organisms."
Source: Science Alert | Comments (16)
Tags: Octopus