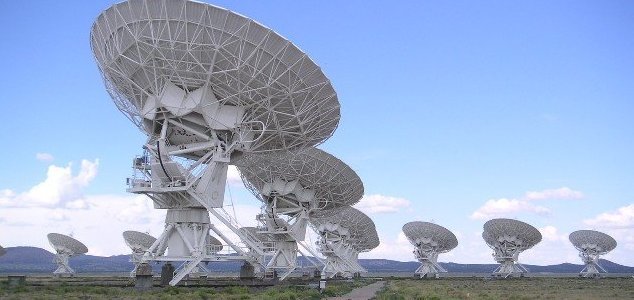 Is there anyone out there ?

Image Credit: CC BY-SA 2.0 Hajor
SETI astronomer Seth Shostak maintains that we will find evidence of intelligent aliens within two decades.
Ever the optimist, Shostak was recently speaking at the Worlds Fair Nano NY festival when he 'bet everybody a cup of coffee' that we would discover intelligent extraterrestrials within 20 years.
He also suggested that the discovery of microbial alien life may happen even sooner than that.
"We may find microbial life - the kind you'd find in the corners of your bathtub," he said. "We may find that a lot sooner, but that remains to be seen. But it's gonna happen, I think, in your lifetime."
On the subject of intelligent extraterrestrial life, while Shostak remains adamant that we will discover something soon, he is less optimistic about the likelihood of direct communication.
"I mean if they're 500 light years away... you'll hear a signal that'll be 500 years old," he said.
"If you broadcast back 'Hi we're the Earthlings, how're you doing?' - it'll be 1,000 years before you hear back from them. If you ever hear back from them."
"So, it's not exactly contact, but at least you know they're there."
Source: Newsweek | Comments (30)
Tags: Seth Shostak, SETI