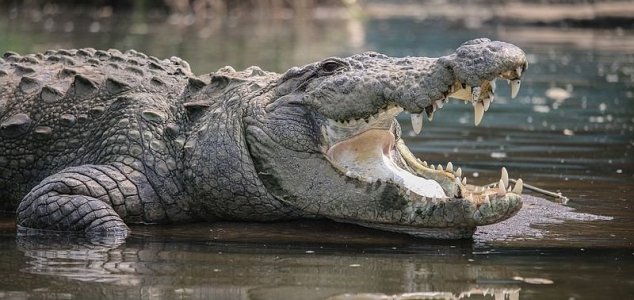 The new species is a distant relative of today's crocodiles.

Image Credit: CC BY-SA 4.0 Goutham89
Palaeontologists have identified a new species that could shed light on the origins of crocodiles.
Nicknamed the 'Melksham Monster' after the town in England where it was first discovered, the 10ft predatory reptile, which dates back 163 million years, is officially known as
Ieldraan melkshamensis
.
The find is particularly interesting because the Geosaurini - the sub-family of prehistoric crocodiles to which this new species belonged - was previously believed to have arisen much later.
"It's not the prettiest fossil in the world, but the Melksham Monster tells us a very important story about the evolution of these ancient crocodiles and how they became the apex predators in their ecosystem," said Davide Foffa, a PhD student at Edinburgh University.
"Without the amazing preparation work done by our collaborators at the Natural History Museum, it would not have been possible to work out the anatomy of this challenging specimen."
Ieldraan melkshamensis
was undoubtedly one of the most fearsome predators of its time and would have dominated the warm, shallow seas of the Middle Jurassic.
Its huge jaws and razor-sharp serrated teeth would have no doubt spelled certain doom for any hapless creature unfortunate enough to have caught its gaze.
Source: BBC News | Comments (4)
Tags: Crocodile, Reptile