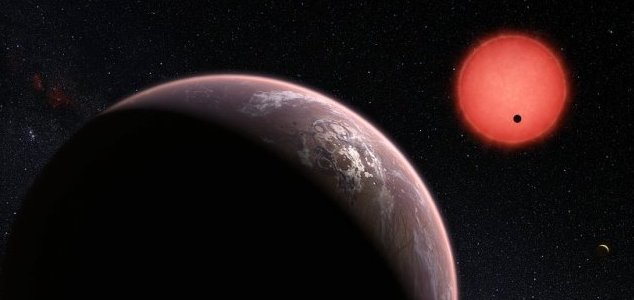 How did such a large planet end up orbiting such a small star ?

Image Credit: ESO/M. Kornmesser/N. Risinger
The planet, which is much too big for its star, defies our current understanding of planetary formation.
Known as NGTS-1b, this Jupiter-sized world orbits a red dwarf star around 600 light years from Earth.
Its mammoth size relative to its parent star has left astronomers scratching their heads as, until now, it was believed that a planet of this size could never exist in orbit around such a small star.
The mysterious gas giant is what is known as a 'hot Jupiter' because it orbits extremely close to its parent star, resulting in very high surface temperatures.
"The discovery of NGTS-1b was a complete surprise to us," said Dr Daniel Bayliss from the University of Warwick. "Such massive planets were not thought to exist around such small stars."
"We are already challenging the received wisdom of how planets form. Our challenge is to now find out how common these types of planets are in the galaxy."
Source: Independent | Comments (1)
Similar stories based on this topic:
Tags: Planet, Star