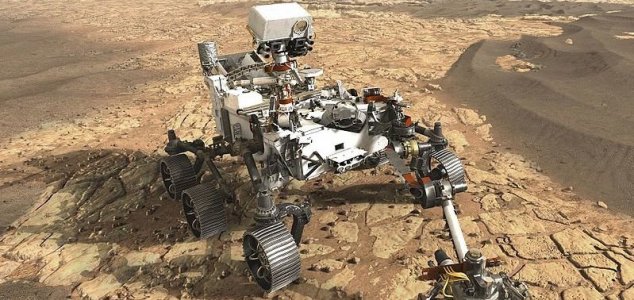 An artist's impression of what the Mars 2020 rover will look like.

Image Credit: NASA/JPL-Caltech
The Mars 2020 rover will be equipped with a wide assortment of cameras for surveying the Red Planet.
Back when Pathfinder touched down on the surface of Mars in 1997, the miniature Sojourner rover was equipped with a meager array of only three cameras while the lander itself only had two.
NASA's next rover on the other hand, a successor to Curiosity dubbed 'Mars 2020', will be carrying a whopping 23 cameras capable of photographing the Red Planet in more detail than ever before.
"Camera technology keeps improving," said NASA imaging scientist Justin Maki. "Each successive mission is able to utilize these improvements, with better performance and lower cost."
Among the cameras the rover will be taking to Mars will be a new and improved version of the Mastcam currently being used by the Curiosity rover.
Its enhanced stereoscopic capabilities will make it possible to capture more 3D images of the planet's surface and its high-definition zoom lenses will be able to spot points of interest over long distances.
"Routinely using 3-D images at high resolution could pay off in a big way," said Jim Bell of Arizona State University. "They're useful for both long-range and near-field science targets."
Source: Phys.org | Comments (5)
Tags: Mars, Rover