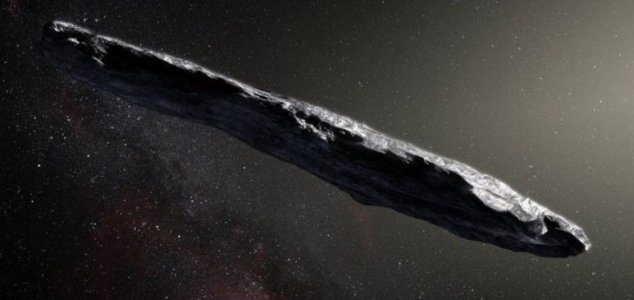 It remains unclear what lies beneath the asteroid's surface.

Image Credit: ESO / M. Kornmesser
Oumuamua, the first ever confirmed visitor to our solar system, has a thick layer of organic insulation.
The 400-meter-long space rock, which flew past our planet back in October, became the focus of much debate and intrigue after it was found to have come from a distant solar system.
Now scientists studying the asteroid have revealed that it is wrapped in what appears to be a thick crust of carbon-rich gunk that may be concealing the presence of ice beneath its surface.
"In the end this was a nice result because we've expected all along that the majority of objects that would visit our solar system would be icy in nature," said study author Alan Fitzsimmons.
"It has been a puzzle that this thing looked like a big lump of rock. Our study says that this object could well be icy in nature but we didn't detect that ice due to the fact it's been baked by energetic radiation between the stars for hundreds of millions of years, or even billions of years."
It continues to remain unclear exactly what the interior of the asteroid is composed of.
"What we didn't see is the signatures of the rocks you'd usually find on Earth, or you might find on the inner asteroid belt surrounding our sun," said Professor Fitzsimmons.
Source: Independent | Comments (17)
Similar stories based on this topic:
Tags: Oumuamua, Asteroid