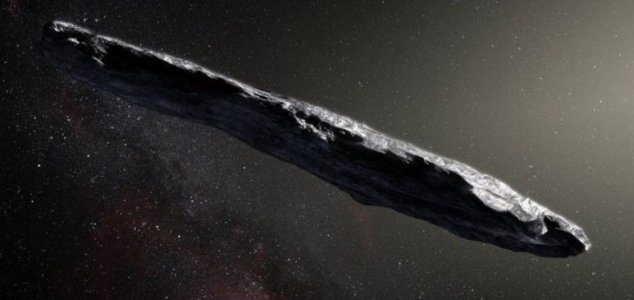 There is still much we don't understand about 'Oumuamua.

Image Credit: ESO / M. Kornmesser
One of the foremost explanations for the nature and origin of the interstellar visitor has been cast into doubt.
The 400-meter-long object, which flew past our planet back in October 2017, became the focus of much debate and intrigue after it was determined that it had come from a distant solar system.
Unsurprisingly, this also lead to a great deal of speculation over whether it was a naturally occurring object or some sort of extraterrestrial vehicle, an idea that even prompted SETI to conduct a concerted effort to listen out for any evidence of artificial signals emanating from it.
Since then, scientists have proposed that 'Oumuamua may in fact be a hydrogen iceberg - an explanation that could account for its strange cigar-like shape and its apparent non-gravitational acceleration by way of jets of hydrogen gas acting as a form of self-propulsion.
Now however, a new paper by scientists at Harvard University and the Korea Astronomy and Space Science Institute (KASI) has cast this theory into doubt by suggesting that if 'Oumuamua had been a hydrogen iceberg, it would never have been able to survive the trip through deep space.
"We were suspicious that hydrogen icebergs could not survive the journey - which is likely to take hundreds of millions of years - because they evaporate too quickly, and as to whether they could form in molecular clouds," said study co-author Prof Avi Loeb.
On top of this, an iceberg of this kind could not have been created through conventional processes.
"An accepted route to form a km-sized object is first to form grains of micron-size, then such grains grow by sticky collisions," said study lead author Thiem Hoang from KASI.
"However, in regions with high gas density, collisional heating by gas collisions can rapidly sublimate the hydrogen mantle on the grains, preventing them from growing further."
So if it's not a hydrogen iceberg, what exactly is 'Oumuamua and how is it being propelled ?
The search for answers continues.
Source: Independent | Comments (12)
Similar stories based on this topic:
Tags: Oumuamua