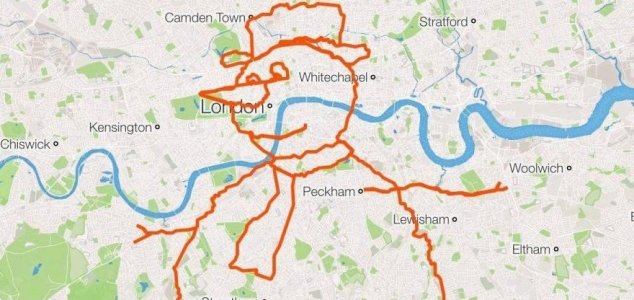 The snowman took ten hours to create.

Image Credit: Strava / Anthony Hoyte
'Strava artist' Anthony Hoyte used his bike and a popular route app to create the festive illustration.
Just in time for Christmas, the keen cyclist, who hails from Kent, rode his bike around the capital for more than ten hours to create the precise outline of a snowman complete with a hat and carrot nose.
By mapping his movements using the exercise and route sharing app Strava, he was able to produce a full-scale virtual drawing.
The technique, which creates what has become known as 'Strava art', has been used by several enthusiasts to create virtual drawings based on precisely mapped out real-world routes.
"Ideally you need a place with a high concentration of roads," said Hoyte. "And then I look at the map and look for things I can draw. It's like looking at clouds and seeing pictures."
"I wanted to do something festive but it ended up so big. It took 10 hours, I spent the whole day doing it and did it all in one go. I had to stop and find public toilets and went the wrong way a few times but it's so big no one's going to notice."
Source: BBC News | Comments (6)
Tags: Strava, Snowman