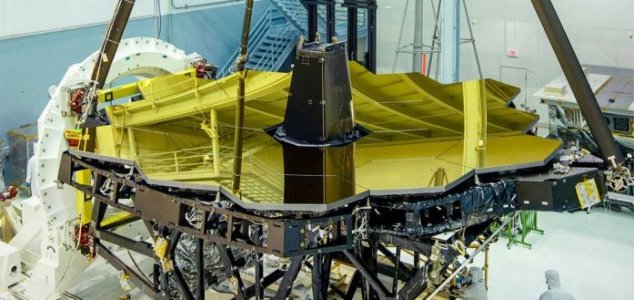 The James Webb Space Telescope is set for launch in 2019.

Image Credit: NASA
The next generation telescope will enable us to directly study the atmospheres of extrasolar planets.
The result of a long-running international collaboration between NASA, ESA and the Canadian Space Agency, the James Webb Space Telescope will provide scientists with an unprecedented view of the cosmos thanks to a resolution and sensitivity that is unrivalled by anything that has come before.
Its primary goals will be to image some of the first stars and galaxies to have formed after the Big Bang, to study the formation and evolution of galaxies, to better understand the formation of stars and planets and to study the origins of life in the universe.
It should even be able to provide clearer direct imaging of planets in orbit around distant stars.
Now NASA has revealed that the telescope has completed vacuum chamber testing in Houston and is on track for launch in 2019 if everything continues to go as planned.
The next phase will be to transport it to California where it will be united with its sun shield.
"After 15 years of planning, chamber refurbishment, hundreds of hours of risk-reduction testing, the dedication of more than 100 individuals through more than 90 days of testing, and surviving Hurricane Harvey, the OTIS cryogenic test has been an outstanding success," said project manager Bill Ochs.
Source: Space.com | Comments (6)
Tags: James Webb Space Telescope