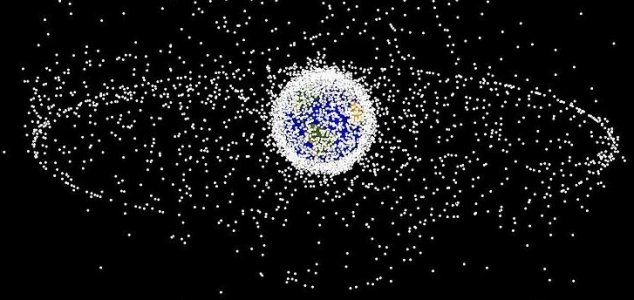 Could space-based lasers help to reduce the threat of space debris ?

Image Credit: NASA
A new study by researchers in China has put forward a novel new way of tackling the problem of space junk.
Satellites and spacecraft are already running a daily gauntlet of spent rocket stages, screws, bolts and other objects that currently encircle our world. As time goes on, the problem will reach the point at which it will be too risky to send anything else up in to space due to the risk of a collision.
Now in a renewed bid to find a solution, scientists at the Air Force Engineering University in Xi'an, China have come up with a radical new solution that would involve using powerful space lasers to break the larger chunks of debris up in to smaller, less harmful pieces.
According to the study, a computer simulation of the system "provided (the) necessary theoretical basis for the deployment of (a) space-based laser station and the further application of space debris removal by using (a) space-based laser."
NASA estimates that there are currently over 100 million pieces of space debris smaller than 1cm, however even at this size there is still the risk of serious damage in the event of a collision.
Among the larger pieces being targetted by the Chinese team are objects such as spent rocket boosters left behind by previous launches and old satellites that are no longer in use.
Whether breaking these up in to smaller pieces is the answer however remains unclear.
Source: BT.com | Comments (7)
Similar stories based on this topic:
Tags: Laser, Space Junk