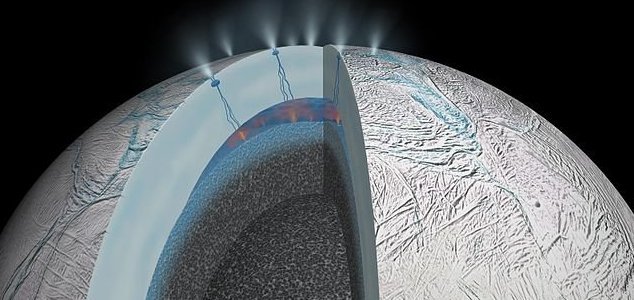 Are there alien microbes living in the oceans of Enceladus ?

Image Credit: NASA/JPL-Caltech
New laboratory experiments have added support to the idea that microbes could be living on Saturn's icy moon.
Often regarded as one of the most promising places to look for signs of extraterrestrial life, Enceladus, which is thought to be home to a vast ocean of liquid water, has remained a popular topic of study ever since NASA's two Voyager spacecraft first began to unravel its secrets.
Now scientists conducting experiments in Austria have discovered that certain types of microbes are actually able to survive under the same conditions that exist on Enceladus.
"We were able to show that, under putative Enceladus conditions, biological methane production occurs in the lab," said study co-author Simon Rittmann at the University of Vienna.
"Hence, some of the methane detected on Enceladus could in principle be of biological origin."
While the research is promising, it does not confirm one way or the other whether the methane detected on Enceladus is a byproduct of alien life forms.
For that, we will need to wait until another spacecraft is sent there to investigate.
"From an astronomical perspective, future missions to Enceladus or other icy moons should be equipped to be able to detect methanogenic biosignatures related to methanogens, like certain lipids or ratios of certain carbon isotopes," said Rittmann.
Source: Seeker.com | Comments (1)
Similar stories based on this topic:
Tags: Enceladus