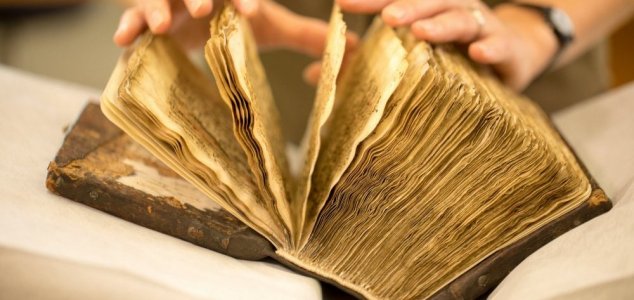 The original text was overwritten.

Image Credit: SLAC National Accelerator Laboratory
Scientists have found the writings of a 2nd-century Greek physician hidden beneath pages of religious text.
At a quick glance, the archaic hymn book, which dates back to the 11th century, might not seem like anything particularly special, however hidden beneath its pages lies the treatise of one of the fathers of medical science - the Greek physician and philosopher Galen of Pergamon.
It was written in ancient Syriac around 1,400 years ago, most likely by someone at St. Catherine's Monastery in Egypt. (Galen himself was born in 129 AD and died in 210 AD. )
Around 500 years later however, the ink was scraped off the pages and overwritten with religious psalms - a common practice at the time due to the high price of parchment.
Researchers have spent several years attempting to decipher the original text using multispectral imaging and now, thanks to a team at SLAC's Stanford Synchrotron Radiation Lightsource, it looks as though success may be just around the corner.
Unlike previous studies that have used ultraviolet, visible, and infrared wavelengths to uncover the original text, this time researchers have been using high-energy X-rays.
If successful, the scans should help to expose tiny residues of ink left behind on the pages.
"The first initial results are incredibly mind-blowing," said classicist Peter Pormann from the University of Manchester. "Galen is the most important and most influential physician arguably of all time."
"This is basically our history, this is how medicine developed."
Source: Science Alert | Comments (4)
Tags: Galen