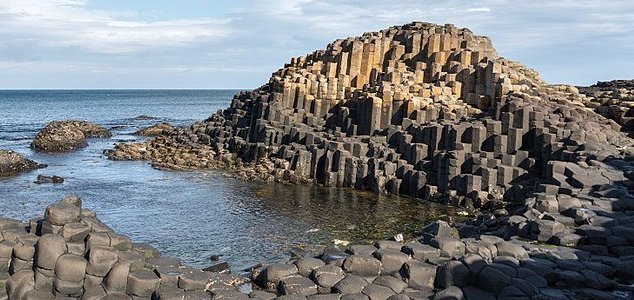 The Giant's Causeway is a popular tourist attraction.

Image Credit: CC BY 4.0 Giorgio Galeotti
Volcanologists have succeeded in recreating the area's distinctive hexagonal columns in a laboratory.
Situated along the coast of County Antrim, Northern Ireland, the Giant's Causeway consists of 40,000 interlocking hexagonal basalt columns that were created during an ancient volcanic eruption.
The precise threshold at which molten magma cools to create such a unique feature has long been a topic of debate among scientists, but now, volcanologists led by Professor Yan Lavallee at the University of Liverpool believe that they may have finally found the answer.
Their research involved recreating the process in a laboratory using basalt cores drilled from the Eyjafjallajokull volcano in Iceland.
The 20cm-long cylinders were heated up until they were hot enough to soften in to lava. They were then fixed at either end by a mechanical grip and cooled until they broke apart.
The team's findings suggested that the Giant's Causeway must have formed at around 840-890C.
"We have been wanting to know whether the temperature of the lava that causes the fractures was hot, warm or cold," said Lavallee.
"I have spent over a decade pondering how to address this question and construct the right experiment to find the answer to this question."
"Now, with this study, we have found that the answer is hot, but after it solidified."
Source: The Guardian | Comments (7)
Tags: Giant's Causeway