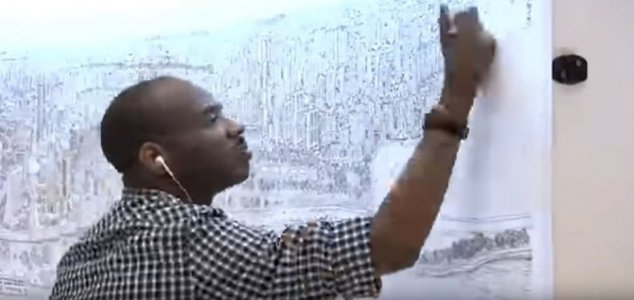 Stephen can draw whole landscapes off the top of his head.

Image Credit: YouTube / Stephen Wiltshire
Stephen Wiltshire, who was diagnosed with autism at the age of three, is one of the world's most skilled artists.
Despite not saying his first word until the age of five, Stephen was able to sketch stunningly realistic drawings of animals as well as caricatures of his teachers while he was still at school.
Today he is a world-famous artist who draws incredibly detailed cityscapes with a seemingly impossible level of precision. What makes this even more remarkable is the fact that he does it almost entirely from memory, having often viewed the subject of the drawing only a single time.
In New York, for instance, he was able to fill a 19ft sheet of paper with a highly detailed drawing of the entire Manhattan landscape after only a single 20-minute helicopter ride over the city.
His panoramas are regarded so highly in fact that thousands of people often come to see him work and several time-lapse videos of his creations have gone viral online.
One of these, which shows him drawing Singapore over the course of five days, can be viewed below.
Source: National Geographic | Comments (7)
Tags: Stephen Wiltshire