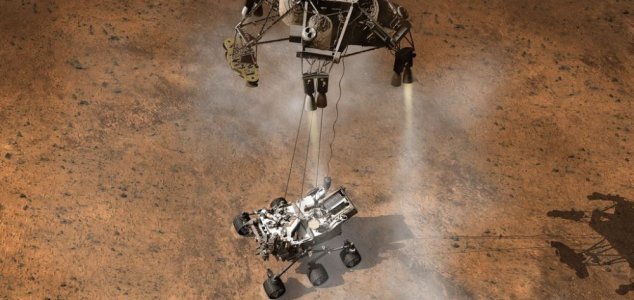 NASA's next Mars rover will collect and store samples of Martian soil.

Image Credit: NASA/JPL-Caltech
The space agencies are working on a series of missions designed to return samples of Martian soil back to Earth.
Even though the Mars Curiosity rover has the ability to collect and study soil samples using its own science instruments, the only way we are ever going to truly understand the complexities of the Red Planet's soil chemistry, as well as its potential for supporting life, is to examine the samples first-hand.
To this end, NASA and ESA have been working on a complicated series of missions designed to collect and transport samples of Martian soil and rock to Earth for further study.
The first step will be carried out by NASA's upcoming Mars 2020 rover which will be equipped with facilities to collect and store tiny samples of soil for collection at a later date. ESA's ExoMars lander will also do something similar when it lands on the planet in 2021.
The next phase would involve sending a small retrieval robot to rendezvous with the rovers, pick up the samples, and then launch them in to orbit around Mars.
A third spacecraft would then be sent to retrieve the samples before returning them to the Earth.
To succeed, not only will each part of the process need to go without a hitch, but the samples will need to be protected from contamination - especially once they actually land back on our own planet.
It is estimated that it may take until 2030 at the earliest to actually accomplish all three phases.
Source: Extreme Tech | Comments (8)
Tags: Mars