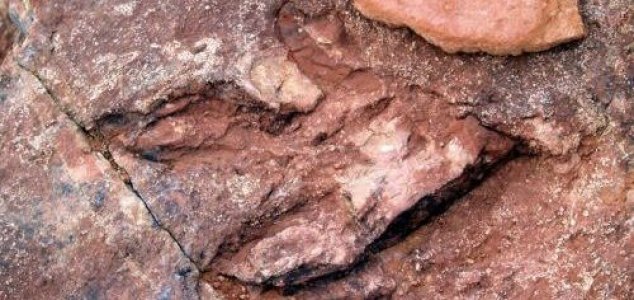 One of the many dinosaur tracks found at the park.

Image Credit: PD - Phil Konstantin
Visitors to a US state park in Utah have been inadvertently destroying fossil dinosaur footprints.
Covering almost 2,000 acres, Red Fleet State Park is popular, not only for its wildlife and recreational activities, but for its remarkably well-preserved dinosaur tracks which date back millions of years.
Recently however, some of the tracks have gone missing thanks to park visitors who have been unknowingly throwing them in to a nearby lake believing them to be ordinary rocks.
While some of the prints can be recovered, others are thought to have been totally destroyed.
Park officials are now urging visitors not to throw rocks in to the water.
"Some of the tracks are very distinct to the layperson," said park manager Josh Hansen. "But just as many are not. That is why it is important to not disturb any rocks at the dinosaur trackway."
Many of those responsible for destroying the footprints are thought to be young children.
"This has been an ongoing problem that we really would like to stop," said spokesman Devan Chavez.
"These tracks are an important part of what makes Red Fleet State Park such a beautiful and special place. Being able to walk, hike, and even swim or boat next to where dinosaurs once stood is an amazing feeling."
Source: BBC News | Comments (11)
Tags: Utah, Dinosaur