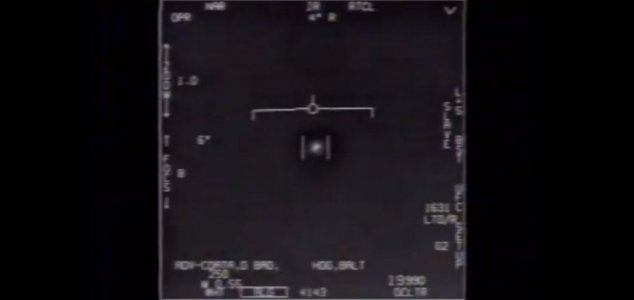 The pilots recorded footage of the mysterious craft (viewable below).

Image Credit: US Navy
The document goes in to more detail about a strange object that was pursued by two fighter jets back in 2004.
The encounter, which was first reported last year, allegedly took place along the coast of California.
"It takes off like nothing I've ever seen," said David Fravor, a retired Navy pilot who had flown one of the two intercepting jets that day. "One minute it's here, and off it's gone."
Now a new 13-page document, which was obtained by a Las Vegas investigative team led by George Knapp, has offered a full account of the event as well as additional details about the object itself.
Referring to the UFO as an 'Anomalous Aerial Vehicle (AAV)', the report describes how the object descended from around 60,000ft to a mere 50ft within "a matter of seconds". It would also "hover or stay stationary on the radar for a short time and depart at high velocities and turn rates".
The UFO, which had been sighted "three separate times" a few days before it was intercepted, was reportedly capable of "advanced acceleration, aerodynamic and propulsion capability" and "possibly demonstrated the ability to 'cloak' or become invisible to the human eye or human observation."
The report even suggests that the mysterious object had possessed the "highly advanced capability to operate undersea completely undetectable by our most advanced sensors."
"It was obvious there was something out there and the fighters were taking it seriously," it reads.
The full report can be viewed -
here
.
Source: Las Vegas Now | Comments (73)
Tags: Tic Tac UFO